Ultrasound liposuction
- UltraContour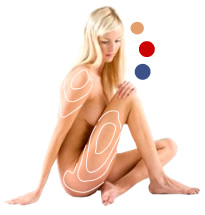 ULTRASOUND LIPOSUCTION IS:
PAINLESS
SIMPLE
NON-INVASIVE
ULTRACONTOUR PRICES DOWN BY 40% BY THE END OF 2011!
Ultracontour – ultrasound liposuction achieves results comparative to traditional liposuction with its non-invasive method.
Non invasive liposuction treatment takes up not an entire hour of your time - your session easily fits into lunch time break.
Has a long-lasting effect. Only 3 to 6 sessions are enough usually.You can decide up to 9 applications to one area.
Ultracontour results after 6 sessions achieve several line-centimetres; entirely. Combined with New Life outstanding results are achieved.

To have an idea we prepared an overview of results for you. The first one is focused on clients that passed 6 sessions at 3 body areas. This continues in summary focused on the belly liposuction.
Ultracontour is cheaper in its effect than liposuction - not only for its price (no need of hospitalization, painlessness, no sick leave and no need to devote your leisure time or weekends).
Check, please, more details on Ultracontour with short guided video tour or an overview of results achieved. Ultrasound liposuction procedure description might help you.
Do not consider Ultracontour treatment if: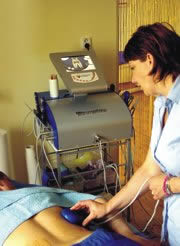 metabolic disease
maternity leave
nursing period
tumour
hepatitis
rash in the area of application
Detailed information in English +420 776 546 676