Cellulita
- Ultracontour - U.Lift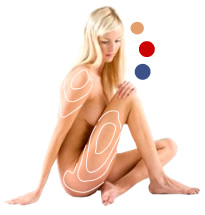 • Cellulite U.Lift is simple
• Cellulite U.Lift is effective

Cellulite disappears quickly and efficiently – first company in the CR offering U.Lift module for Ultracontrour. U.Lift works on the same principle as Ultracontour. Its aim is the cellulite as a aesthetic imperfection where any struggle with was entirely fatiguing.

U-Lift - Ultracontour treatment takes up not an entire hour of your time; it is undemanding for your timetable. You can go through a session even over your lunch break.

U.Lift is efficient and its effect long-lasting though it brings a "revolution" into a cellulite struggling.

Cellulite is a challenge for any cosmetic studio, beautician, fitness trainer or a nutrition guide. We can connect all these branches in our studio to fight your cellulite, cellulite which is quite often the only spot on your beauty, more efficiently than at specialized posts. Do not hesitate to ask us anything you need to know about cellulite at our web-forum. Come to get a look and to find out how are you fixed for your figure with our new instrument – InBody. InBody works out detailed analysis of a fatty tissue and immediately composes "the fight plan".
For those who are interested in cellulite struggling I prepared some essays not only for the papers and magazines, but for the internet as well
To place an order for U.Lift call: +420 776 546 676
Detailed information about U.Lift – instrument for cellulite struggling